DiaB is proud to be a first diabetes healthcare platform, being refered and supported by endocrinologists.
Doctors are directly taking care of their patients with the DiaB App.
Doctors are using the DiaB App in their treatment.
General information

 about the program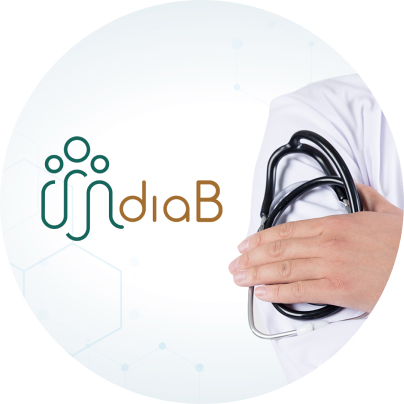 In the era of digital transformation of the healthcare industry, DiaB develops an in-depth technology platform in diabetes management, helping doctors monitor and improve patients' blood glucose in a timely, convenient, and scientific way.
With the expectation of becoming the bridge between Patients, Doctors, and Health Coaches, DiaB hopes to receive doctors' companionship and support in improving the quality of treatment.
Doctors using the DiaB App in treatment contribute to a healthier Vietnam Diabetes Community and effectively support other professional works.
Management and treatment through clear data
Listening to the Diabetic Community
1. About Disease Management and Treatment
Thanks to the use of technology, the DiaB App can help doctors treat diseases more effectively based on specific data such as:
Timely monitoring of blood sugar and other health indicators.
Understanding the patient's medical condition, lifestyle, habits, and needs help Doctors make better treatment decisions.
Refer to the chart of health indicators, as well as other information that may affect the Doctor's treatment regimen.
Receive a comprehensive assessment report on the patient's progress in management and lifestyle changes.
Receive instant alerts on patient emergency developments.
2. About Diabetes Expertise
DiaB receives the trust of leading Doctors and Experts in supporting diabetes management. As a result, DiaB is the connection between doctors and the Diabetic Community, helping to:
Share Analysis Report on the patient's indicators and lifestyle.
Help Doctors understand patients' psychology and behavior.
From there, assist Doctors in making treatment decisions and other necessary expertises.
3. About Community
DiaB will develop a large and reputable user community is Diabetic patients, thereby helping Doctors:
Listen to the patient's thoughts.
Anticipate current and future treatment needs.
Benefits for
doctors' patients
Tracking 7 health indicators through the DiaB App
Interacting directly with multidisciplinary specialists
Personalized curriculum, exercises routes, and meal plans.
Dedicated Health Coaches companion.
A community to be shared and encouraged
By applying modern medical knowledge and intelligent technology, DiaB is committed to bringing the best results for people with diabetes when participating in our Lifestyle Change journey.
For more information, please contact Hotline 0768 07 07 27 or click the Join Now button below, DiaB will contact you!
Tham gia ngay